This page is devoted to our dogs that have crossed the Rainbow Bridge but will never be forgotten.

AKC GCH Rockstaff Wintertime Sprite CGC "Sprite"
R.I.P. 12/28/2006- 3/29/2022
Sprite was bred by us and is out of CH Rockstaff Mr. Pibb CGC and CH Rockstaff Summertime CGC. She was the dam to 5 AKC champions. Sprite enjoyed her retirement here with us and was "queen" of our house. She was co-owned with my mom (who thoroughly spoiled her). She was BOS in Sweepstakes and reseve Winners bitch at the 2008 SBTCA National Speciality show. She was always a "perfect pet" and is greatly missed.
AKC CH. Rockstaff Mr. Pibb CGC "Pibb"
R.I.P. 1/26/2006-1/4/22
Pibb was bred by us and was one of my top producing boys. He has sired 13 AKC champions and grandchampions to date including mutiple BISS specialty winners. Aside from being a great producer, he was a joy to live with and wicked smart. His silly, happy go lucky personality will be missed. Rest in peace my handsome boy.
AKC CH Rockstaff Red Jasper Of Mine CGC "Jasper"
R.I.P 9/3/2004-11/6/2020
Jasper was bred by us and was my first bred by champion male. He resided with me his whole life and was a awesome boy. He always had such a gentle, passive temperament and was the peacemaker at my house. He got along with any dog no matter the age or sex. I miss you my sweet baby man.
AKC CH. Rockstaff Hollywood Starlet CGC "Holly"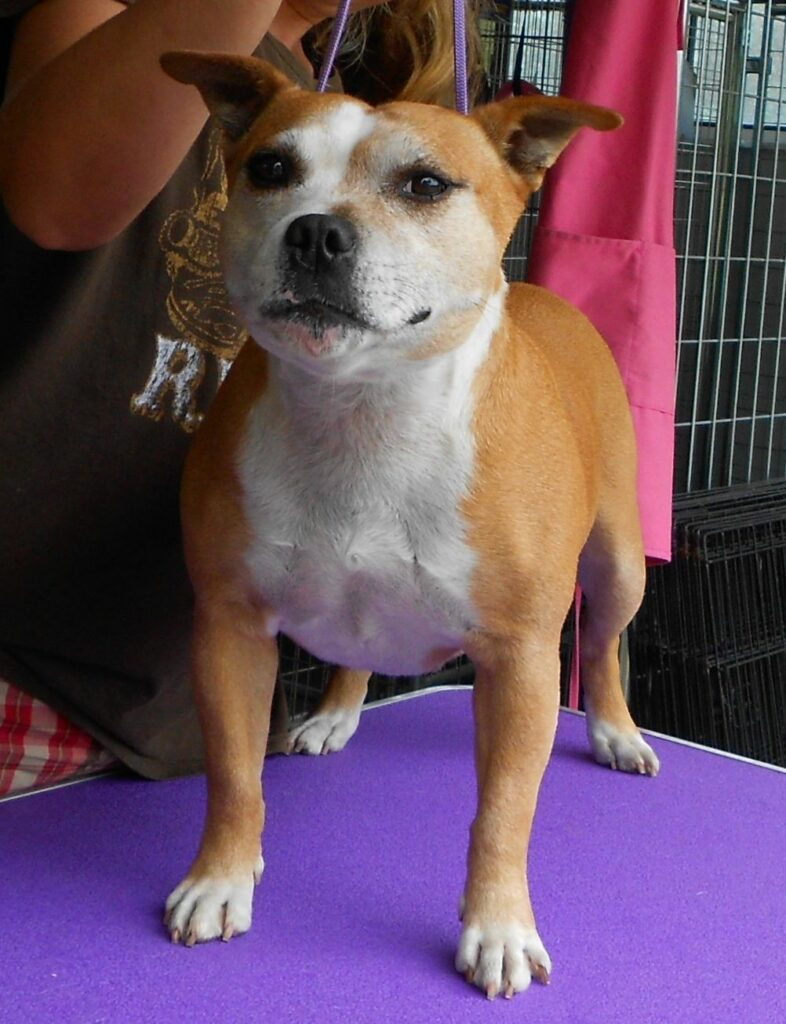 R.I.P. 9/3/2004-3/3/2020
Holly was bred by us and was our first bred by champion. She stayed with us even after she was retired from showing and breeding. She was the sweetest lil muffin. We miss you baby girl.
AKC CH. Dauntless Duking It Out ROM CD CGC "Duke"
R.I.P. 12/17/2000- 4/10/2013
Duke was my first male Stafford and my first show dog. He started out as a runt but matured into a handsome boy that had a nice show career with mulitiple BOB and group wins. He also went on to sire 10 AKC champions. I will forever miss this special boy.
AKC CH Hogan's Reba Abbigail "Reba"
R.I.P. 12/3/99-5/8/12
Reba was my first AKC champion girl. She was out of UK imp. CH. Nozac Intrepid Jet and was bred by Mimes-Staff Staffords. We miss you sweet piglet.
Ramstaff Molly Sweet Spot "Molly"

R.I.P. 4/25/00-12/14/13
Molly was my second Stafford and a full sister to my first girl Sadie. She is the foundation of my breeding program. She LOVED to play ball and had the sweetest most patient temperament. She will forever be missed.
Ramstaff Lil Miss Sadie Mae "Sadie"
R.I.P. 10/26/99-8/8/13
Sadie was my first Stafford and started my love affair with the breed. She was one of the smartest (at times too clever) and craziest dogs I've owned with a never ending zest for life. She lived to play ball and run on our farm with the 4 wheeler. She will forever be missed.
Rockstaff Ain't Miss Behavin' "Missy"
R.I.P. 2/9/08-9/3/10
Missy was bred by us and was out of our boy AKC CH. Dauntless Duking It Out ROM CD CGC and our girl AKC CH. Rockstaff Summertime. Missy was a more active girl with a passive temperament. We tragically lost her to a rattlesnake bite. We miss your sweet, adventurous spirit sweet girl. Rest in peace.